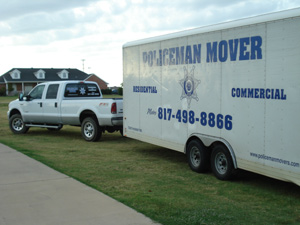 Whether your new address is just around the corner or across the state, FortWorthResidentialMovers.com can be trusted to move you and your belongings with the consideration as if it were our own possessions. Locally owned by North Texas Police Officers Policemanmovers.com, we are fully licensed and in compliance with all regulations as set forth by the Texas Department of Transportation.

We provide moving and packing service to both residential and commercial clients throughout the state of Texas. We are proud to have earned the trust of thousands of happy Fort Worth Texas residents and residential moving customers throughout the State for over 10 years.

The Fort Worth Residential Movers team at Policemanmovers.com is staffed by reliable, skillfully trained moving professionals to ensure that your move is an easy one. Whether you are needing a residential move in Fort Worth, moving from one apartment in Fort Worth to another, or have an office move or commercial moving project, FortWorthResidentialMovers.com moving company will provide you with an affordable and professional move.

Why Consider Moving to Ft. Worth, Texas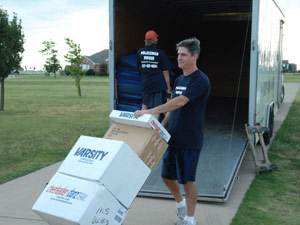 With continued growth in the Alliance Corridor and in-fill housing in areas like the Seventh Street district, Fort Worth was the fastest-growing city in North Texas last year.

Ft. Worth has added 15,950 people for a total of 736,200, well more than second-place Dallas, which added 10,000 for a total of 1,356,350, according to a figures released Thursday by the North Central Texas Council of Governments.

Tarrant County grew by 21,650, for a total population of 1,829,400, an increase of 1.18 percent. At 2.87 percent, Crowley notched the fastest rate, growing by 350 to 12,550. By comparison, Arlington was essentially flat, adding just 200 people.
DFW #1 Southern major market of decade
DFW 3rd best market in U.S. for relocations, expansions
DFW 2nd best city for fresh start
Job seekers are heading to Texas
Fort Worth Best Cities for Retiring
Whether you are moving across town or across the state, changing homes can be hectic, exciting and certainly stressful.

Rest assured you've come to the right place for assistance and information for your move in North Texas or to any city or town in Texas. Policemanmovers.com can take the stress out of your next important move.
817-498-8866
US DOT#2090836
Email: curtis@policemanmovers.com
Check out our moving company divisions in other North Texas cities
DallasResidentialMovers.com | KellerMovers.com
NorthTexasMovers.net | SouthlakeResidentialMovers.com
---

Website designed and maintained by Bogart Designs